Cloning a website with Installatron
Cloning in Installatron allows you to quickly make copies of your applications. It can also be used to alter those copies, for example:
Clone https://example.co.uk to https:/staging.example.co.uk - to create a staging version where you can make and test changes like plug-in updates before applying them to your live site.
Clone https://example.co.uk/mysite to https://example.co.uk - to move a site from a sub-directory/folder to the webroot.
With a little work it can be used to help you switch from http to https (as long as you have the SSL certificate in place), for example:
Clone http://example.co.uk to https://staging.example.co.uk - remove the original site and then clone back from https://staging.example.co.uk to https://example.co.uk
In this article, we are going to clone a WordPress site. Prior to completing this clone, I have
set up the sub-domain
clone
to receive the cloned site. This cloning process is similar for all other Installatron managed applications.
You can only clone sites that are already managed within you local Installatron Applications Installer. We have a separate guide on Importing applications into Installatron.
We also have guides for Importing a website into Softaculous, Cloning a website with Softaculous and Staging a website with Softaculous.
Always make sure you have a good backup of your site before making any changes - so you can roll-back if anything goes wrong.
Open the Installatron Applications Installer from the Software section of cPanel.

Click the Clone icon on the site you'd like to work with.

The Clone screen has two sections - the Source section at the top is already filled:

Below you'll see the destination section:

Domain - in this case, we've selected the staging sub-domain we created beforehand.
Directory (optional) - usually left blank to serve the imported site directly from the domain - but can be entered to serve the site from a directory.
Database Management - choose whether to let Installatron create a new database for the imported application, or choose an existing database
Settings Management - if you wish to alter any of the setting specified in the These settings include controls for: list you can select Let me manage these settings to make changes.

Click Clone to complete the process.
Once the import has been successfully completed you'll see the site listed with your My Applications dashboard with three links
- the first takes you to the site homepage (if you've updated your DNS). See our article on viewing your website before updating DNS to test the new site.
- the second takes you to the WordPress admin dashboard login screen (again, same proviso regarding DNS as point one)
- the third link takes you to the wordpress.org support site.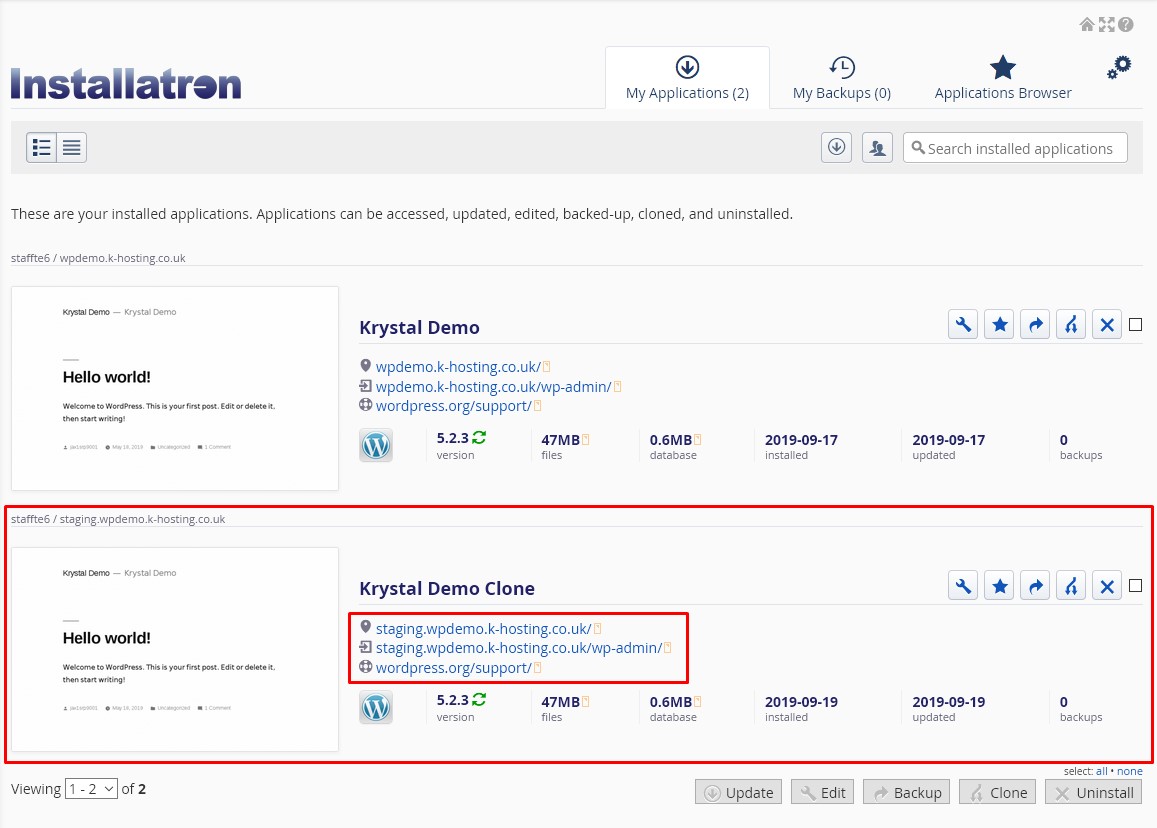 ---
---