SpamExperts (10 of 11) - Ways to manage spam
SpamExperts is a system independent of our mail servers that filters email to remove Spam. Its success rate is pretty high, but sometimes it might block something you'd like to receive and other times not block something you'd rather not.
There are a number of ways you can manage releasing an email from SpamExperts quarantine or reporting email as spam.
Accessing SpamExperts
cPanel > Email > SpamExperts

On the next screen, you will see a list of domains within this cPanel account - click Login to enter the SpamExperts configuration for that domain

Accessing the SpamExperts dashboard directly
The SpamExperts dashboard can be accessed directly via https://strikemail.co.uk (link to Strikemail server opens in a new window)
You'll need to have created SpamExperts logins in order to access the dashboard in this way.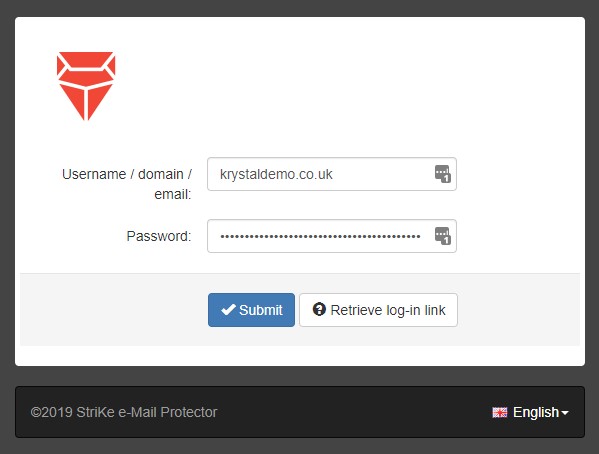 You'll need to create either a domain or email account login in order to use the following methods
SpamExperts IMAP mail account
It's possible to manage spam within your email client, by adding IMAP accounts.
You should use the following details:
Incoming Mail Server Name: strikemail.co.uk
IMAP Port: 993
Connection Security: SSL/TLS
Outgoing Mail Server Name: Your Hosting Server URL (for example: apollo.krystal.uk)
SMTP Port: 465
Connection Security: SSL/TLS
Your username and password for the IMAP account will be as you set up in SpamExperts.
The SMTP login details will be the default SMTP User/Server details you would use for the normal email account.
We have separate guides for setting up email accounts in various clients - see our Email category.
Once you've set up the mailbox you'll see a number of folders: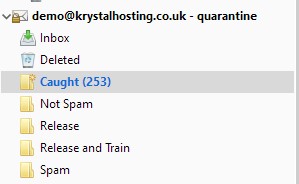 Any email currently in Quarantine will be in the Caught folder.
You can drag emails between these folders.
So, if you see an email in Caught that is not spam and you want to just release it once - drag it to the Release folder - and it'll be delivered to your email account.
If you want to Release and Train the spam filter - so future emails from the sender won't be blocked - drag the email to the Release and Train folder.
Beware of the Spam and Not Spam folders - they do what they say on the tin - but they don't release the email to your mailbox. Whatever you drag into those folders will just help the filter for future emails.
SpamExperts email client Report Spam add-ons
There is also an email client add-on available for Outlook.
The add-on can be downloaded directly from SpamExperts - the following link also detail how to report spam using the add-on.
---
---