Reseller Hosting - Start Here
Setting up a fully-automated reseller hosting service from start to finish might seem daunting.
However, if set up correctly you will be able to provide not only an industry-leading hosting service but a fully automated service to your end clients.
The aim of our reseller guides is to help you through the process of setting up your new reseller hosting service.
Your new reseller account provides several key elements to ensure a fully automated and configurable reseller platform, which you can leverage to provide the best level of service offering on the web.
Your reseller account with us has several key elements
Web Host Manager (WHM), WHM Features lists & WHM Packages
WHMCS (included with Trinity and Infinity plans)
Web Host Manager (WHM)
Web Host Manager (WHM) is the central control mechanism for your hosting service.
WHM allows you to create custom hosting packages and manage your customer's cPanel accounts. Each of your customers gets their own cPanel hosting account within your reseller account.
Your WHM details are provided on your Welcome e-mail, which would have been issued when your account was set up with us.
WebHost Manager Complete Solution (WHMCS)
WHMCS is a fully automated client billing and management solution which provides you with a system through which your customers can order hosting services, make payments to you and submit support tickets if needed. WHMCS is provided free with Trinity and Infinity reseller plans and is an option to purchase on Unity.
WHMCS communicates with your hosting service via WHM to provision, change and de-provision cPanel hosting services.
Krystal offers a Domain API module for WHMCS. This allows you and your customers to purchase domains through your customer-facing WHMCS site - these will be purchased and registered directly into your Krystal account.
Finally, we provide custom name servers and control panel URL for your account, along with glue records, which your clients can use to set up and point domain names to your hosting service.
How it all fits together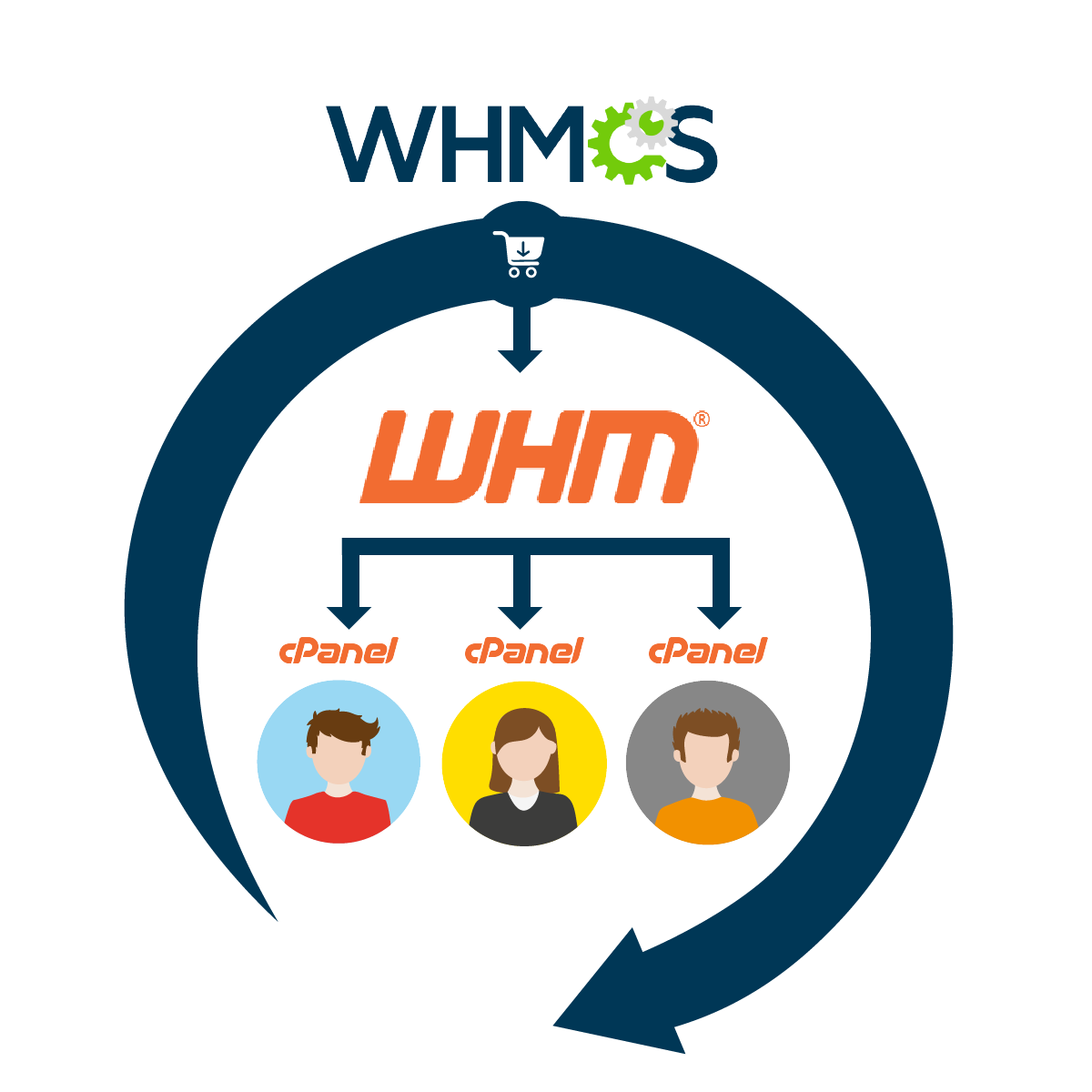 cPanel accounts - these are the individual hosting accounts that contain a specific client's domains, websites and email accounts.
WHM - this is your management system that contains all the individual cPanel accounts. This is where you specify the limits and features provided in each cPanel account via WHM Packages & Features.
WHMCS - this is an optional wrapper for WHM - that provides a billing and client management solution as well as a front-end website that allows your clients to login to their hosting account with you and view their hosting packages, domains and billing. WHMCS can be fully integrated with WHM, so you can add, edit and remove clients here and any changes will be reflected in WHM.
Next Step
---
---