Managing WHM Packages
WebHost Manager (WHM) is the central control panel from which you manage your reseller hosting services with us.
WHM allows you to manage your client cPanel accounts and control all elements of your hosting service. Your WHM login details are issued in your Welcome e-mail when your new reseller account is setup.
After you've created any feature lists you require, the second step in setting up your new hosting service is to create a package. A package is a list of permissions and resources that your clients can have access to once they order your hosting services.
You can set-up as many packages as you like. These can also be edited at a later stage if you decide to change your service offering.
Creating a Package
WHM >> Packages >> Add a Package
In WHM, under the Packages section, click Add a Package
You will see a new screen which initially asks for a Package Name. You can name your packages anything you like, for example if you have three levels of hosting with different limits you might name them bronze, silver and gold.

Next, you can define a list of resources to suit the package you are offering.
You must set a limit for disk space and bandwidth - see details below for over-selling and explanation of the plan limits.
Select the feature list you've previously configured, and assign this to your respective package. This will only permit access to those features you had enabled specifically in your chosen feature list.
For the purpose of this example, all other selections should remain as default.
Editing or deleting a package
WHM >> Packages >> Edit a Package
Select the package and click Edit.
WHM >> Packages >> Delete a Package
Select the package and click Delete - the package will be deleted, there is no confirmation.
Creating an SSH Package for Resellers to allow Secure Shell access
It may be that you'd like to offer SSH (Secure Shell) access to some of your clients.
We now provide the functionality to enable you to create accounts within WHM with SSH access enabled for your customers, to save you time when creating accounts for customers who may require it!
We'd suggest handling this on an individual basis by creating additional matching WHM packages with the Shell Access option ticked.
So, for example, if you have three packages - Bronze, Silver and Gold. You would replicate them exactly to three new packages - Bronze-SSH, Silver-SSH and Gold-SSH. And in these new packages, you would ensure the Shell Access option is ticked.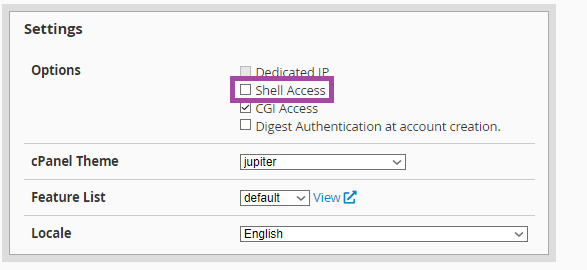 You would then simply change the package applied to an individual client to the SSH version to permit access - by following the instructions in the following section.
Modifying a client's Package
WHM >> Multi-Account Functions >> Modify/Upgrade Multiple Accounts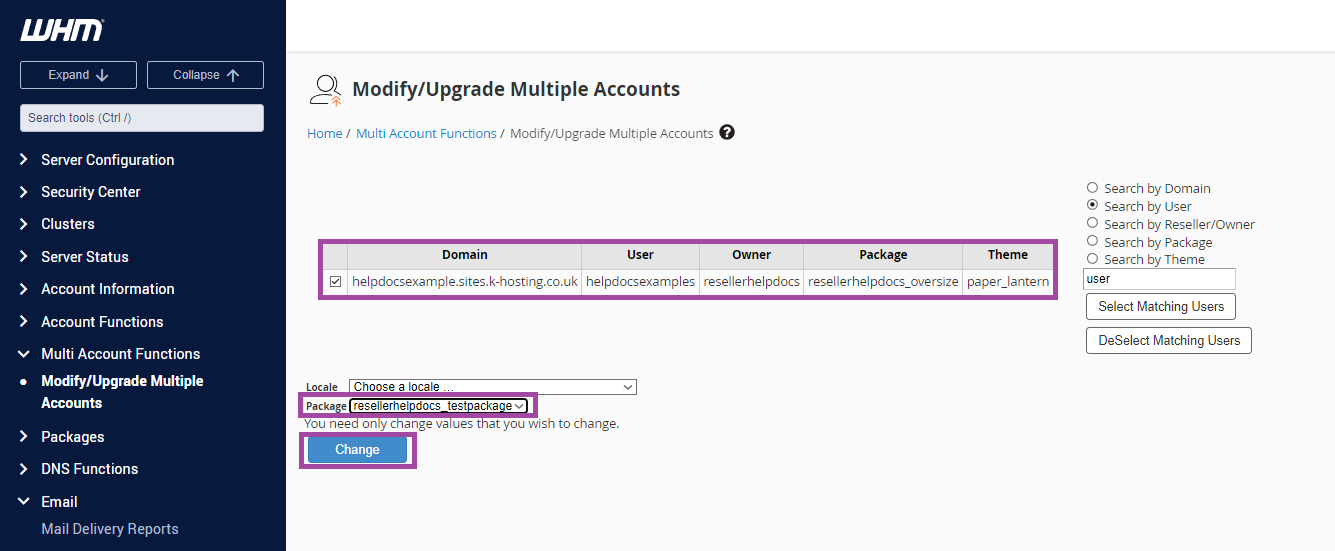 Select the account(s) for which you'd like to change the package - you can see the accounts current package detailed in the Package column.
Select the package you'd like to change them to from the drop-down.
Click the Change button.
It's also possible to change just one account from Account Functions >> Upgrade/Downgrade an Account - but using this option doesn't show the existing package assigned to an account in the initial list.
Over-selling
Your reseller plan will have a disk limit defined by the plan you're on. Your bandwidth is technically unlimited (More information on this below!).
For example, on a Unity reseller plan, you are assigned 25Gb of disk space and 25 cPanel accounts. So you could create a 1Gb package and assign this to 25 resellers (or 24 if you are using one of the accounts) and under these circumstances, you'd be unlikely to have any issues - other than individual clients hitting their 1Gb limit.
However, you could create a package with a 10Gb limit - and assign it to those same 25 cPanel accounts. Now you've effectively assigned 250Gb of space - but your plan has a 25Gb limit. In this situation, if your clients tried to use more than 25Gb in total you'd be over you plan limit and that would impact all clients. You would need to clear some space or upgrade to a hosting plan with a higher disk allowance.
Bandwidth Limits Explained
cPanel requires that a bandwidth limit be set when any other resource is limited. As we limit resellers by disk space, cPanel also requires a bandwidth limit to be set.
If you wish to offer your clients 'unlimited' bandwidth (as we offer you) then simply set their bandwidth limit to a very high number e.g. 999999999
---
---