How to configure Onyx DNS for Office 365 email
Finding your Office 365 DNS records
Note: To verify a domain for use with Office 365 you will have to ensure your account has admin privileges
Log in to your Microsoft 365 Admin center.
From your Microsoft 365 admin center, click Setup > Domains from the left-hand menu.

If you have already added your domain to Office 365 you can skip to the next stage.
Click on Add Domain and type in your domain name when prompted.

You should see the "Verify domain" screen. This is in place to prove that you control the domain. Make note of the TXT record shown.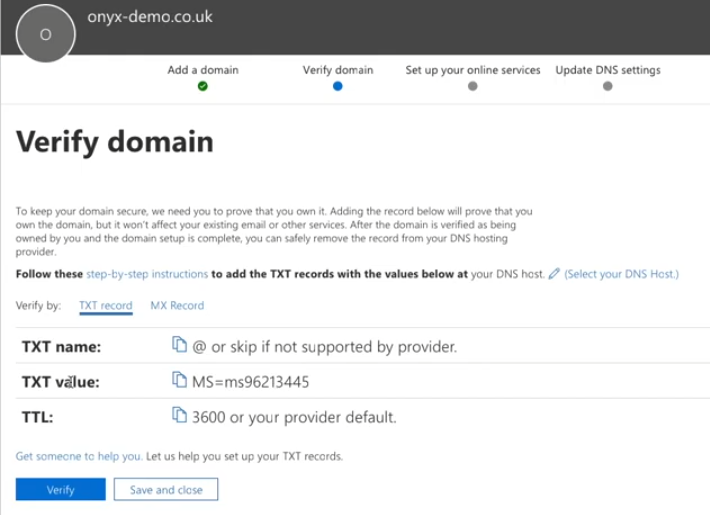 Adding your TXT verification record to Onyx
Log in to your Onyx Dashboard
Click on the site you wish to add the TXT record to

Click on the DNS dropdown. Select the domain you wish to add this record to.

Click the option to Add another record

Change the Type to TXT and enter the TXT value that has been provided to you in your Microsoft 365 admin center.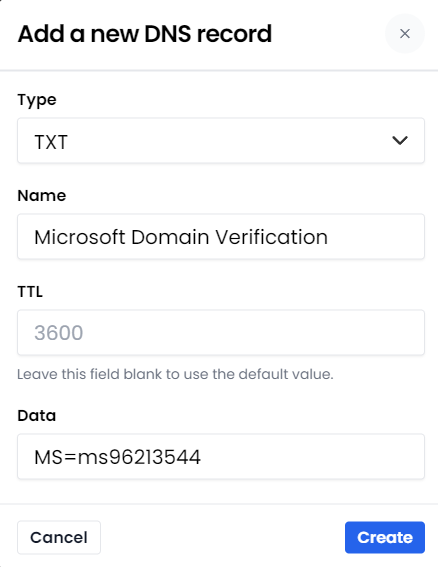 Tip: If you don't wish to add a custom name to your new record, the name can be left blank. Onyx will automatically populate this for you.
Verifying your Domain name
From the "Verify Domain" screen in your Microsoft 365 admin center, click the Verify option.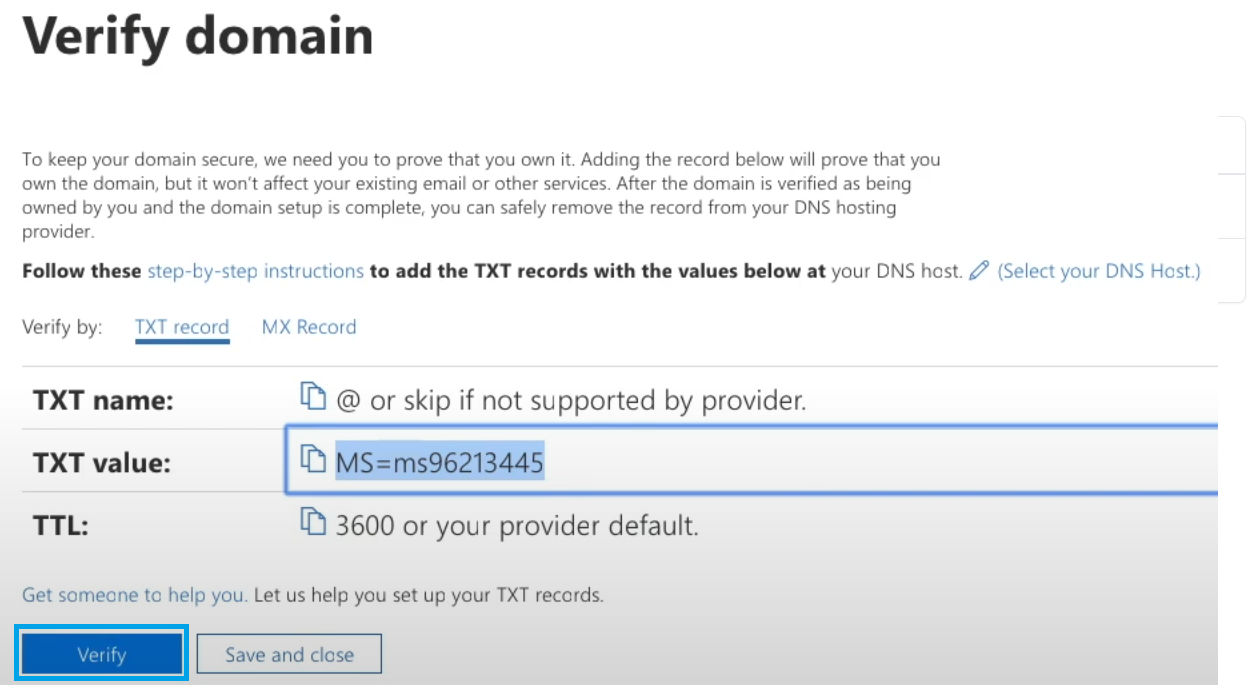 Warning: The verification may not happen instantly and in some cases may fail. Should this happen, simply wait a few moments and attempt the verification again,
Adding your DNS records
Once your domain has been verified, you will see the "Set up your online services" screen. Select I'll manage my own DNS records and click Next.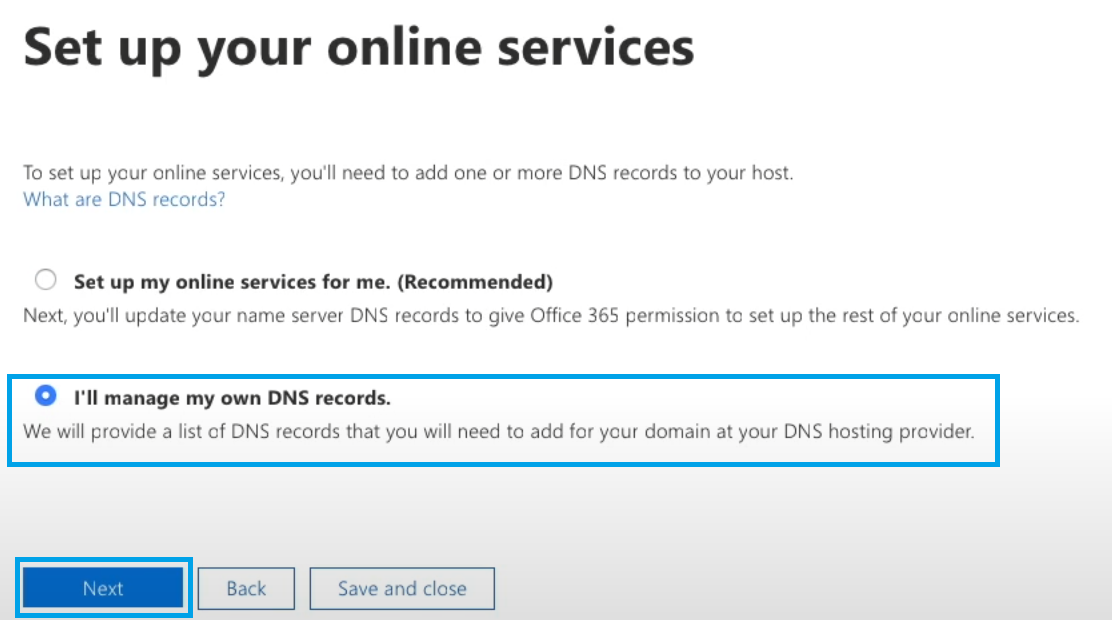 You will then be asked to "Choose your online services". This should set to Exchange. Once Exchange has been selected, click Next.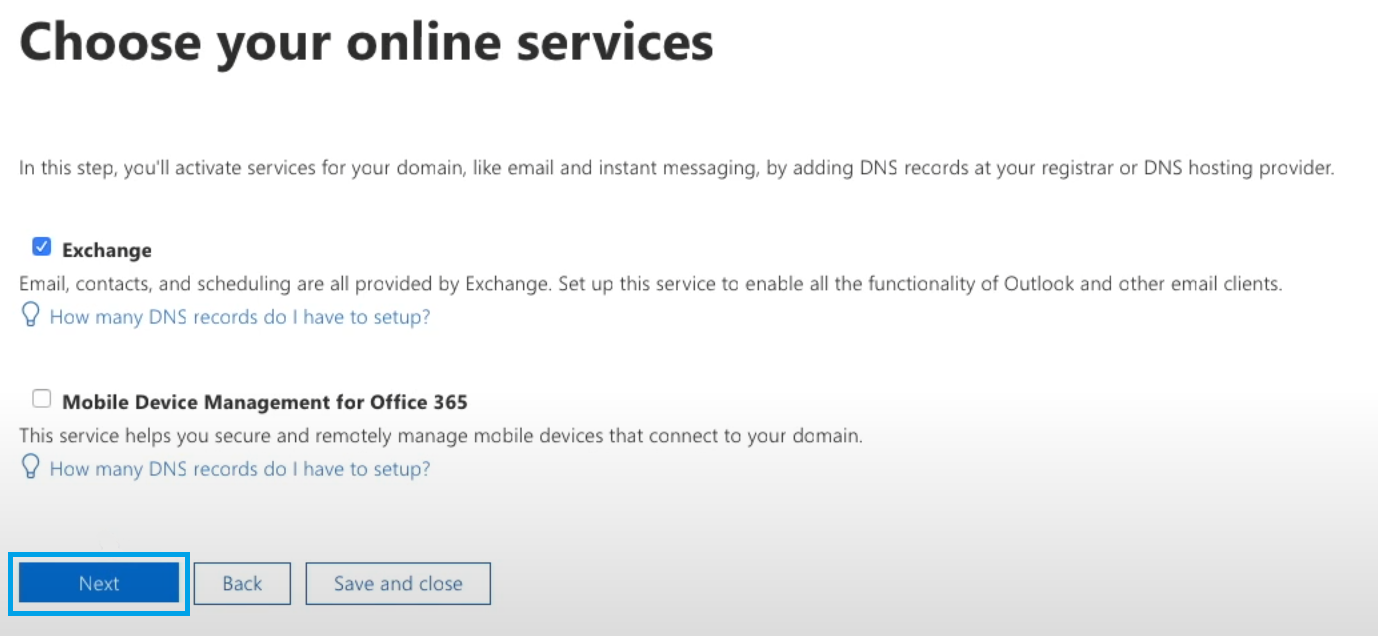 You will then be provided with a list of DNS records to add to Onyx. These domains will be added to your domain within your Onyx dashboard, and we have an easy to follow guide that covers adding additional records to your domain.
Please Note: Once you have added your records, they will take up to 72 hours to fully propagate. As long as the records you have added are correct and match those provided by Microsoft, emails will begin to deliver to your mailbox shortly after the records are added.
---
---