JetBackup - Restore or download a database backup
This guide walks you through restoring or downloading a backup file of a database.
We have a separate guide that focuses on full account and file restoration using JetBackup and another on restoring an email account.
JetBackup is accessed from within your account's cPanel, in the Files section or directly through the JetBackup section.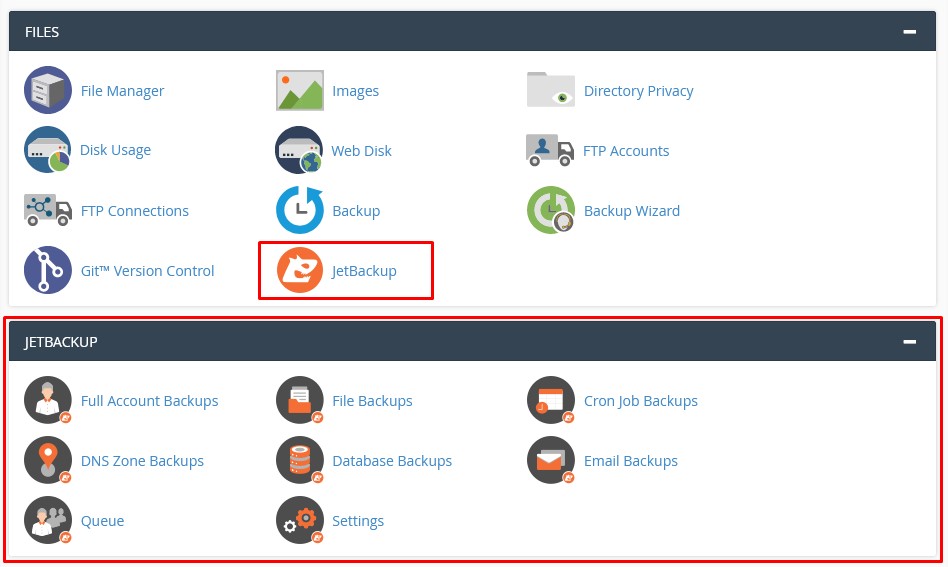 Some of the JetBackup messages talk about old data no longer being available e.g. 'All old information created after the backup restore point will be permanently lost.' or 'Note that we are saving only the last "1" downloads in our server. older downloads will be deleted. are you sure you want to download this backup?'

This does not mean your previous backups or data will be lost.

JetBackups are stored on separate backup servers - not directly on your hosting server. When you perform a restore (or generate a download), the data you request is pulled from the backup server to your hosting server before being restored to your hosting account or made available to Download.

Only one set of backup restoration data for your account can be kept on the hosting server at any time. The backup server retains intact version of all your available backup sets at all times. So, if you perform multiple restorations this simply means the new backup data will be copied to the hosting server so you can restore from it to your hosting account (deleting any prior backup data set held on the hosting server).
Restore a database
By completing this process to restore a database you will be completely over-writing any existing database in the cPanel with the same name. Please ensure you take
backups of your current database
to ensure you can roll-back if you need too.
From the JetBackup dashboard (Files > JetBackup) click Database Backups or click Database Backups in the JetBackup section.

You'll see a list of database backups, select the date/time of the backup you'd like to restore and click Restore.

On the confirm screen, you'll need to tick the Are you sure you want to restore this account? box and then click Add to Restore Queue.

You can then return to the dashboard and click the Queue button to check on progress - you'll see when the backup is marked as Status Completed.
Download or Restore
As well as restoring, JetBackup also allows you to download a copy of the backup files that can then be saved to your local device - click Generate Download rather than Restore.
Email notifications of completed tasks
To get email notifications when a JetBackup task has completed, click Settings and enter your email address, click Save Settings to finish.

Viewing the task queue
To view queued download or restore jobs click on Queue. Possible queue states are Completed, Failed, Cancelled, Pending, Processing.

---
---